Your Rail Freight Delivery from China to Europe in ≈13 Days!
Example-Route: Zhengzhou – Paris: 16 ~ 18 days
Several hubs in China and Europe
Extraordinary low transportation fees
Full (FCL) or Less than Container Load (LCL)
Customs clearance
Over 90 % less CO2 emissions
Value Added Services
China Exports and Imports with TBN – Our Network
Our rail freight network in China, Russia and Europe.
We connect Europe with Moscow and several hubs in China.
Profit from low fares for rail freight and our door to door delivery service!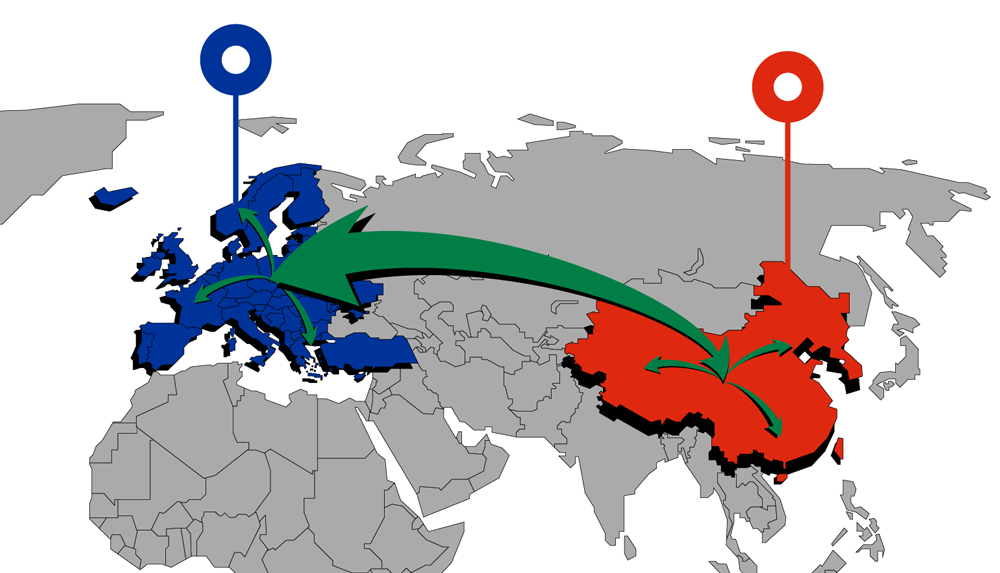 Our Train Hubs in Europe and China
Complete door to door delivery
We offer complete door to door service and have several train hubs in China, Russia and Europe. With that you will profit from low transportation times and low fees.
Thomas Meyer, Managing Director TBN Logistik & Trade GmbH, info@tbngroup.de
Train Hubs in China
Chongqing
Wuhan
Xian
Zhengzhou
Train Hubs in Europe
Duisburg (Germany)
Hamburg (Germany)
Munich (Germany)
Warsaw (Poland)
Malaszwicze (Poland)
Moscow (Russia)
What Others say about Rail Freight
TBN supports our whole shipping process from China to the UK. We save a lot of money thanks to rail freight.
We take advantage of rail freight because of low pollution. The communication with TBN is always quite pleasant.
Example Transportation Times
Malaszwicze: 10 ~ 13 days
Warsaw: 12 ~ 14 days
Prague: 16 ~ 18 days
Hamburg: 14 ~ 16 days
Duisburg: 16 ~ 18 days
Paris: 16 ~ 18 days
Milan: 16 ~ 18 days
We offer more routes – see below! You can book a full container load or just partial loads!
All Rail Freight Benefits
Transportation costs on average 50 % less expensive than air cargo – transit times 50 % shorter than ocean freight
You don't have to book a full container load. You can book flexible space!
All common container types available: 40HQ, 40GP, 20GP, 45GP, Reefer Container, Garment Hanger Container, Open-top Container
"Door To Door" service through our own distribution network
Customs clearance by TBN Logistik & Trade GmbH customs declarants – 24 hours a day, 7 days a week
Over 90 % less CO2 emissions
We serve the routes Zhengzhou-Europe, Zhengzhou-Kazakhstan, Zhengzhou-Russia, Zhengzhou-Japan and Zhengzhou-South Korea for both import & export traffic
Book your space today and get your cargo from China to Europe.
If you have any questions, concerns or have never taken advantage of rail freight delivery, talk to me today!
Your Container Train from China to Europe