China Import / Export: TBN in the Middle Kingdom. China is now one of the most interesting markets for German companies worldwide. Being international therefore means being present in Asia, especially in China.
In the People's Republic of China live 1.3 billion people or nearly 20% of the world's population – to compete here & amp; Being able to act competently takes over TBN Logistik & amp; Trade GmbH Your Transport to and from China . We have the know-how, the business relationships and the experience in import and export.
Benefit from our relationships in the metropolises of Shanghai, Hong Kong, Shenzhen, as well as at all common ports at the China Import / China Export!
From the first contact through the export-side processing of all country-specific formalities and regulations to the import-side processing customer – together with our house in Hong Kong – you have an international service provider by your side, your flow of goods from A-Z professional accompanied.
The Transit Times by Ocean Freight
The transit times by ocean freight broken down to the destination of the freight:
Shanghai 30 Days
Guangzhou 31 Days
Ningbo 33 Days
Qingdao 34 Days
Dalian 35 Days
Tianjin 38 Days
Xiamen 30 Days
Hongkong 28 Days
The duration of the runtime can be significantly reduced by our multimodal solution. The container train as an alternative – depending on the origin and destination about 10 to 20 days time savings!
Exports to China amount to over € 85.8 billion a year from Germany alone, and the export volume shows a steadily rising trend .
There is enormous potential in the increasing demand for high-value-for-money foreign products of the Chinese middle class. Use it! We are happy to advise you and realize the export to China for you, please fill out our inquiry form.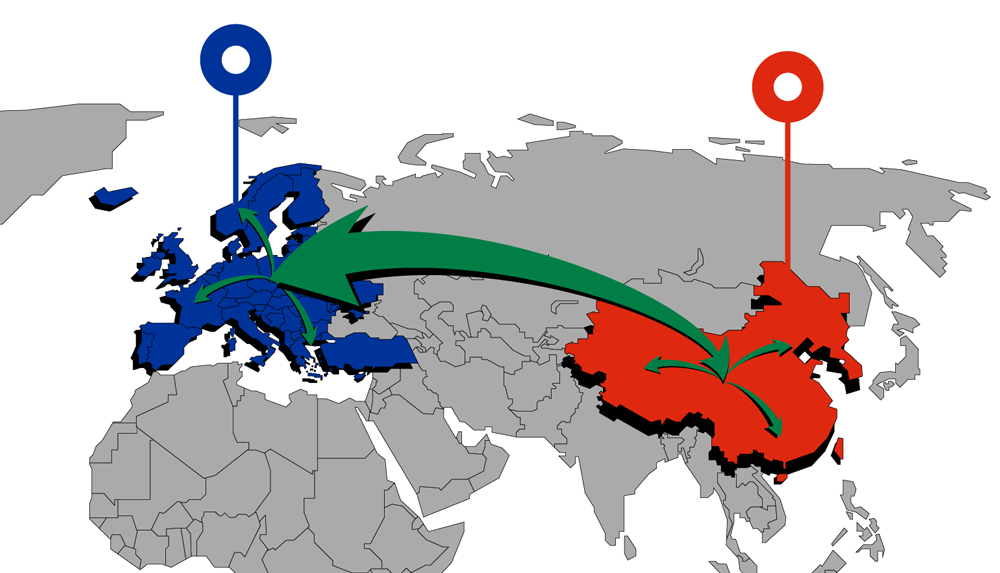 Thomas Meyer, Managing Director TBN Logistik & Trade GmbH, info@tbngroup.de
The import from China to Germany covers a volume of over € 61.3 billion.
Trading in products from China offers tremendous opportunities: cost reduction, thus increasing the margin and a potential competitive advantage over your competitors. Generate a real benefit from the opportunities that the import from China offers: We already support you in the procurement of raw materials or in the search for adequate suppliers.
Transportation by Water, Rail, and Air
Ocean freight is the best solution for inexpensively transporting large quantities of non-perishable goods for
The least expensive transportation solution
Suitable for non-perishable goods like textiles, machines, automobiles, etc.
Customs clearance in import, export, and as a tax representative
Rail freight is a new and highly economically efficient logistics solution to transport goods less expensively than via
Environmentally-friendly transportation solution
Best price-performance ratio
Customs clearance by customs declarants from TBN Logistik & Trade GmbH
Air cargo is an optimal choice for transporting goods to even the most remote locations all over the world in just
Remote destinations available
The best solution for perishable goods
Customs clearance in import, export, and as a tax representative
Transports to China are usually realized by air freight or ocean freight from Hamburg. Here we control all common harbor squares and airports. A particularly frequented transport route is both sea freight and air freight Hamburg – Shanghai. But other transport hubs such as Beijing, Hong Kong and Shenzhen are regularly approached by our partner companies for transports to China. Alternatives to the usual traffic routes we offer you with the container train an interesting new variant for your imports & exports.